Design and Build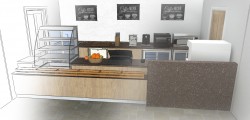 With all aspects of Design and Build kept in-house, we can manage the budget of a project to make sure it is cost effective to our clients.
Our designers have the skills and expertise to help bring your ideas to fruition. CPF will help you take a concept idea, develop the details of functionality, make sure the project is in keeping with the desired look and feel to produce a fully detailed design for your project.
CPF have recently invested and developed our ability to produce detailed 2D design drawings to show you how the project will fit together in an easily digested way, we can then combine this with 3D visuals to help our clients envisage the end product.
With the implementation of CNC technology, we can cost effectively change even the most original design into a functioning counter, no matter what shape or size. This is all part of the package we offer at CPF.
Once your project has a detailed design, it can be built. We use our in-house manufacturing department to professionally create whatever is required. CPF pride ourselves on our ability to create extremely high standard products that exceed our clients expectations.
If you think you require our Design and Build services, do not hesitate to contact us.