Counters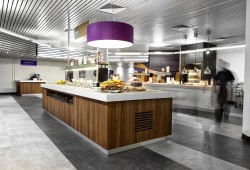 Our modern manufacturing facilities combined with our in-house design capabilities enable us to realise your counters to your specification and to a high quality finish.
We employ CNC technology and the latest CAD and CAM software to ensure accuracy and consistency throughout the manufacturing process.  Utilising industrial diamond tooling our machines produce counters of all shapes and sizes, the only limit is budget and imagination!
With a policy of continuous development, regular investment in new machinery and maintaining our existing workshop creates a safe and productive working environment which allows our focus to be on the clients needs, and our need to exceed your expectations.
Our approach to workshop staff training and apprentices keeps CPF at the forefront of our industry.  We work closely with local colleges and training bodies to make sure that our personnel are always up to date and getting the most from their jobs.  This gives our craftsmen an attention to detail
We deliver our counters to tight deadlines and to our clients exacting standards.  Our experienced staff are well versed in working with many materials; from timber, to acrylic, solid surface materials and metals as well as many wood based products, we can combine all of these to create counters with impact and individuality.
Thanks to our team of professional site fitters your counters will be installed maintaining the high standard established throughout the counters construction.  From design, through manufacture and finally, fitting on site, you can be sure CPF will see the job completes on time and to your satisfaction.